Here are the highest priced items sold in the last month in the vintage Barbie category on eBay.  The top ten is totally comprised of vintage ponytail Barbie dolls and vintage Bild Lilli dolls.  There were 5 ponytail Barbie (4 #1's & 1 #2) and 5 Bild Lillis.
This was the highest priced eBay vintage Barbie doll over the last 30 days.  It was listed as a NRFB #2 Sample Barbie in Variation Busy Gal.    It received 2 bids and sold for $7,800.
One of the photos showed the end of the box stamped with the word SAMPLE.  Other than that, the seller did not give any information as to the provenance of this doll, which I find surprising.  If she would have been able to authenticate it & tell where it came from, it would have perhaps sold for an even higher price.  Perhaps it was a dressed box Barbie – but if so, why was the Busy Girl outfit a variation?
Next was this brunette #1 Barbie Doll.  It sold for a "buy it now" of $6,000.
She included her original stand, her swimsuit, sunglasses and black open toe heels, along with her box. The seller stated, "This doll is from a very large private family collection and it has been kept away from sunlight, in a smoke free environment since it was purchased in the mid 1980's from a very reputable dealer."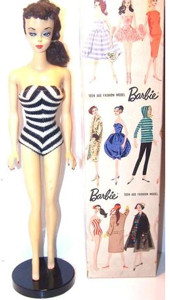 The 3rd highest item was also a #1 brunette ponytail Barbie.  She receive a whopping 58 bids and sold for $5923.
Her ponytail is braided.   She came wearing her swimsuit, with a reproduction stand and her original box.
The 4th highest was our first Bild Lilli.  She sold for a "buy it now" of $4,800.  She was described as "Genuine 11.5″ Bild Lilli German 1950's & #1106 original poplin jacket and shorts."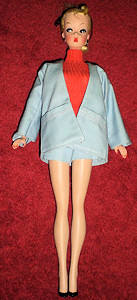 The seller stated, "The doll has been produced by the Hausser company in the mid- 1950's in Germany.
This "BILD LILLI" is gorgeous and all 100% Authentic & Original. She has her own personality. From her black molded on shoes and earrings, to the tip top of her hair. She is all hand painted.
When describing this doll, we have to be very careful not to use the word perfect for legal reasons….However with certainty we can say the following : "A picture of perfection not seen too often" !
And please, as far as negative points or flaws on this doll ?…None to be seen ! – There are none ! – They don't exist !!!… "NOT A HAIR OUT OF PLACE" … A real beauty !
This statement is true for her physical body as well as her very rare Poplin Jacket and shorts set.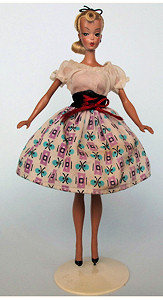 Her moving body parts, Arms, Legs and Neck work correctly and smoothly.
This "BILD LILLI" looks like as if she was just manufactured yesterday….She is totally "UN-PLAYED WITH"."
<— The 5th highest is another Bild Lilli, this one a 7.5″ high one.  She sold for a "buy it now" of $4,600 and was described by the seller as "Bild Lilli doll 7.5″ in RARE original Dirndl outfit # 1175 and stand".
The seller's description was, "Bild Lilli doll 7.5″ in RARE original Dirndl outfit # 1175 – white transparent crepe blouse with short puffed sleeves, closed with 2 Prym buttons in back, black corsage/ skirt with print, closed with one Prym button in back, white panties and original stand. The doll is very pretty, the color of her face and body matces perfectly. The skirt is slightly yellowed a few places."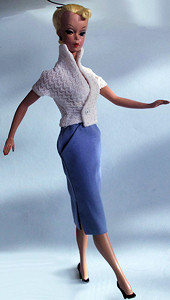 Next, another Bild Lilli, sold for a "buy it now" of $4,500.  The seller described this one as "RARE vintage original 11″ Bild Lilli doll in MINT/CRISP outfit #1168."
The sellers complete description for this doll was, "RARE 11″ vintage Bild Lilli doll in MINT/CRISP outfit # 1168 – white low neck cut out blouse with white stand up collar, one button at the front and slim knee lenght skirt with two insertion pockets and one button at the side. The doll is with original high color makeup, eyeshadow and blush. The hair is a pretty light blonde."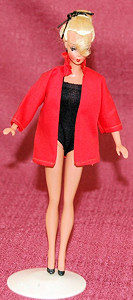 Yet another Bild Lilli is next.  This one, described as "VINTAGE Authentic Bild Lilli Doll 7.5″ Tub Stand Outfit MINT HTF RARE Pre Barbie", sold for a "buy it now" of $4,300.
The seller stated that she was all original and was an "estate sale find".    She also included the original plastic tube that she originally came in.
Back to Barbie, next was a #1 Blond ponytail Barbie that also included 5 ensembles.  She received 30 bids and sold for $4,051.99.
From the seller's description: "The five fashions included are Sweet Dreams, Nighty Negligee, Resort Set, Singing in the Shower and Ballerina. The Barbie doll fashions have some of the original accessories and are in excellent condition. A few clothing bits and pieces are also included.
"Barbie's blond ponytail hair has no hair cuts or missing plugs and is slightly thin. She has flocking under the ponytail. The doll has nice curly original bangs. The finger and toe nails are painted with original red paint that is about 80% intact. She has a solid pale straight leg body marked copyright Barbie T.M. Pats Pend MCMLVIII by Mattel Inc. Barbie doll has the original metal tubes in both feet. She has a couple of brown marks on her upper left thigh. Barbie doll's eyes have blue eyeliner and smoky eye shadow."
 Another blond #1 ponytail Barbie is next.  This one received 22 bids and sold for $4,000.
From the seller's description: "This Gorgeous doll is a Rare Vintage 100% authentic #1 Ponytail Barbie doll from 1959. I am the only one and the original owner of this #1 Ponytail. I used to play with her as a little girl….This #1 Ponytail Barbie has clean, silky blond hair. Her original wrap restored with beautiful soft ringlet curls. Her hair is in beautiful condition, though her ponytail may have been trimmed as it is a bit shorter than it should be. Beautiful and very fluffy poodle bangs! Flocked scalp. Her make up is stunning and almost all original, it's been slightly and professionally restored, lips, nose dots, and lids. Her eyebrows are all original, No touch ups. Beautifully restored by Julia at "JuliaOriginals"….She has an early solid heavy Barbie TM pale body with the holes in the feet. Lovely pale and slightly pink even all over skin tone. Very nice stance. Her body smells like crayons. No green ear, no slits, no nips, no pin pricks. This doll is in superb condition!! All fingers and toes (touched up and sealed) never chewed or damaged. Marked: Barbie ™ Pats. Pend. © MCMLVIII by Mattel, Inc….She will come with her vintage original zebra swimsuit and a pair of original black Japan OT heels with holes. All vintage pieces, no reproductions. She also comes with green ear safe .925 sterling silver hoop earrings and a stand."
The top ten is finished out with another 11″ Bild Lili doll.  This one is described as "RARE original MINT – 11″ Bild Lilli doll in outfit # 1153″ and received 16 bids, selling for $3,800.
The seller's description was: "RARE 11″ Bild Lilli doll in outfit # 1153 – swinging red skirt with trim and black long sleeved pullover. The doll is MINT / she has never been played with – the hair still with original upper and lower string."
Related Pages:
Vintage Barbie Dolls
Vintage Barbie Ponytail Comparison Guide
#1 and #2 Vintage Barbie Ponytail Dolls (1959)
See all current Vintage Barbie Listings on eBay
Comments
comments