The last few months have been all about the ponytails. 9 out of the top 10 highest priced vintage Barbie dolls were Ponytails. most of them were blonde. Not a single American Girl in the top 20! Here are the highest priced items sold in the last 90 days in the vintage Barbie category on eBay.
The highest priced item sold was this #1 Ponytail Barbie, listed as a Dressed Sample Doll, wearing Easter Parade. She received 3 bids and sold for $7,650. The seller stated it was a "one of a kind #1 DRESSED SAMPLE DOLL. She was made for salesmen only to show her to customers." She included her box and the complete outfit. He hat was attached to her head with thread.
Next was this #2 Barbie, listed as mint in box. She sold for $6,400. She was sold in her box, wearing her zebra striped swimsuit and included all of her original accessories.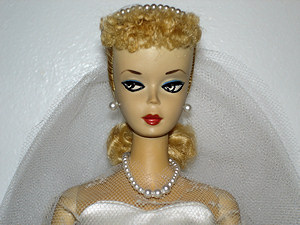 The third highest price item as this #1 Barbie. The listing included the doll, her box and swimsuit and she also came with a complete Wedding Day Set and Evening Splendor. She received 22 bids and sold for $5,900.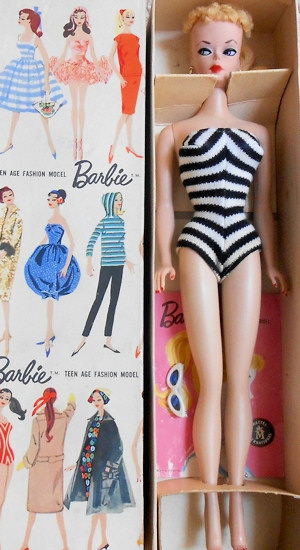 Next was this Lemon Blonde #1 Ponytail doll. She sold for $5,700. She was described as a mint/near mint doll in her original box, with her original swimsuit, booklet and gold hoop earrings.
---
Next was this #1 Brunette Ponytail she included her box, swimsuit, earrings, stand, sunglasses and booklet and sold for $5,400.

---
Next up in our long line of ponytails, is this #1 Blonde. She received 12 bids and sold for $5,300. She also included a box, swimsuit and stand.
---
The first non-ponytail in our list is this Japanese TNT Barbie. She received 15 bids and sold for $4,820. SHe was listed as "Vintage Japan Market Twist Turn Tnt Dressed Barbie Never Removed From Her Box". The seller didn't offer any more information and did not identify the outfit name.
---
I'm going to end this edition of the count down here, as 9 and 10 are more blonde #1s & #2s in their swimsuits… You get the picture.
The next non-ponytail Barbie was 16th on the list, a Japanese Sun Sun Francie that sold for $3,750, to be discussed in the near future. Also I am no longer including Bild Lill's in this list, they will be addressed on a different list, coming soon…
Related Pages:
Vintage Barbie Dolls
Vintage Barbie Ponytail Comparison Guide
#1 and #2 Vintage Barbie Ponytail Dolls (1959)
See all current Vintage Barbie Listings on eBay
Comments
comments