Here are the highest priced clothing items sold in the last 90 days in the vintage Barbie category on eBay.
1


Barbie's Gay Parisienne #964 (1959) is considered one of the "Holy Grails" of Vintage Barbie Collecting.  It was one of two ensembles that was only made for one year – Barbie's first year – 1959. It is very hard to find.  I don't think I have ever seen one still in the original box before.  This one received 46 bids and sold for $5,457.98 in May 2014.

2

This Sears Exclusive "Glimmer Glamour" #1547 from 1968 received 25 bids and sold for $3800.75 In July 2014. This ensemble is hard to find because it was a Sears exclusive and was sold only for one year.
The gentleman selling this from his Mother's estate included this note that been written by his late Mother: "This absolutely gorgeous ensemble is "elusive" in this condition-due to the delicate fabrics that do not wear well with typical playtime; this outfit has had NO playtime. The dress is lined in blue silk with a sheer organdy overskirt; the over-blouse features golden glitter dots. The organdy is extremely fragile!!! Golden braid accents the bottom of the bodice and a wide goldtone belt nipped in the waist. The coat is a trapeze style with a tie at the neck and 3/4 sleeves. The fabric is a golden lame' knit lined in yellow nylon, gold color hose and clear open-toed shoes with golden glitter complete the set."
3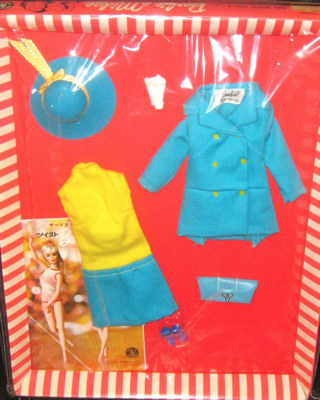 This Barbie Japanese Exclusive Outfit #2617 NRFB was next. It sold in April 2014 for $2495, Buy It Now. It is a turquoise and yellow 2 piece outfit with a matching felt hat. It is from 1967 and is pictured on page 128 of Barbie in Japan
.
4

Next is another "Holy Grail" of Vintage Barbie Collecting.  This time Barbie Roman Holiday #968 (1959)  TM Version Complete – this was also made only in 1959.  It was listed for $2995 and sold in May 2014 for a Best Offer of $2400.
5

Another Japanese Exclusive item was next.   This one is for Francie and is frequently seen on this list.  It is an elegant ball gown (number DS2240) that is made from the backside of the fabric used for Evening Splendour #961 (1959-1964).   It received 23 bids and sold for $1675.99 in July 2014.
6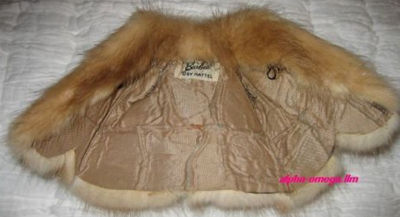 Next was another item that is high on everyone's wish list – it is the Sears Exclusive Genuine Mink stole from 1964.  This item was controversial when it was sold, at $10 it was the most expensive Barbie item ever at the time.  This was was listed at a Buy It Now price of $1775 and sold in April 2014 for a Best Offer of $1400.  The seller stated this came from the original owner.
7

Ken makes a rare entry on the list with his Business Appointment #1424 from 1966.   This one is still boxed and sold for $1195 in May 2014.
8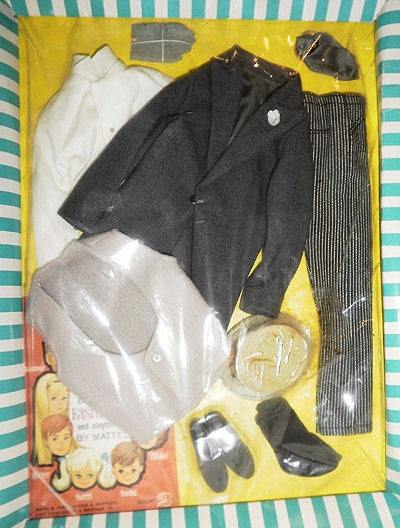 I don't think we have ever had two Ken ensembles on this list before, but next is another NRFB Ken outfit.  This one, Here Comes The Groom #1426 from 1964, received 9 bids and sold for $1050 in June 2014.
9

Next is another of the Francie Japanese Exclusive Ball Gowns.  This one has been removed from the box, but it was also included in the listing.  It sold for $999 in May 2014.
10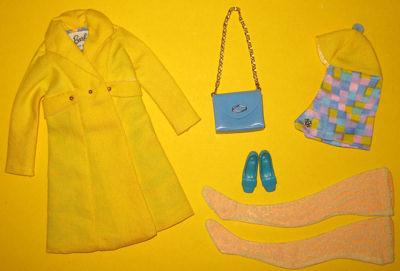 Finishing the Top 10 list is  The Yellow Go, a Sears Exclusive from 1967.   Is complete and sold for $995 in June 2014.
See all current Vintage Barbie Listings on eBay
Comments
comments