Here are the highest priced clothing items sold in the last month in the vintage Barbie category on eBay.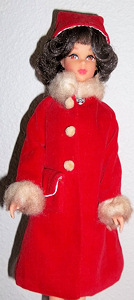 Two Vintage Francie ensembles that were exclusive to the Japanese market share the top slot this month.  Both items – sold by the same seller – sold for $2,000 each.
One is this red velvet coat with white fur trim.  It included the coat, hat,  red print dress, purse and red heels.
The other, the blue raincoat, included the coat, hat, umbrella, boots and gloves.

---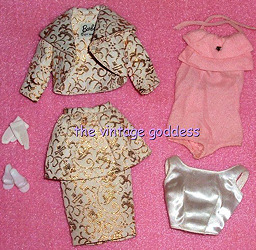 Next is also a Japanese market exclusive ensemble.  This one is for Barbie, it is a variation of the vintage ensemble Theatre Date.  It was listed for $1,995 and sold for a "best offer".
The seller states the outfit is "made from the reverse of Golden Girl and Evening Splendor fabric which gave it more sophistication".  It is missing the hat & seems to have the same pink blouse as Atelier Fest – although it may be the same pattern and a darker pink fabric.  (See below for more on Atelier Fest.)
---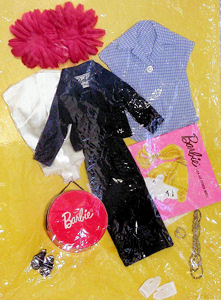 Next is this Mint on Card Vintage Barbie Commuter Set #916 (1959-1960).  This ensemble is extremely hard to find NRFB.  It sold for $1,599.
---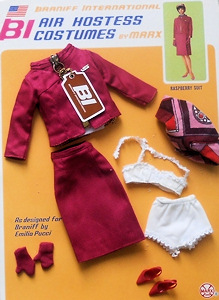 This Mint on Card Braniff Airlines Raspberry Hostess Suit sold for $1,495.
Braniff was an airline based in Texas.  They had colorful airplanes and their stewardesses wore outfits designed by Emilio Pucci.  Montgomery Ward sold these replicas in 1967.  They were not made by Mattel, they were made in Hong Kong.  The clothes are tagged & the shoes are marked Hong Kong.  You can see all four the Barbie Braniff Airlines ensembles in this November 2008 post (there was also a pilot ensemble for Ken).
---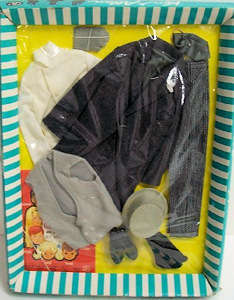 Speaking of Ken, how rare it is for him to break into the top ten?  (VERY rare, indeed.)  Yet he did with this NRFB Here Comes The Groom from 1966.  It was listed for $1,499.99 and sold for a "best offer".
This is probably the most desired and desirable Ken ensemble.  It is from the height of Barbie's "high glam" period and is an absolutely elegant ensemble for Ken.
---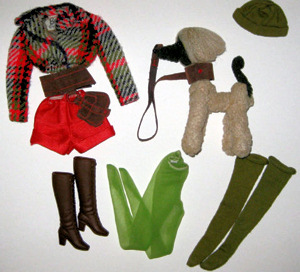 Next was a Mod Era ensemble.  This is the complete ensemble, Hot Togs #1063 from 1972.  It was listed for $1,500 and sold for a "best offer".
This is one of three ensembles from a group called Put-ons 'n Pets. They include an ensemble and a pet for Barbie. They are all hard to find. The other two are Kitty Kapers and Poodle Doodles.
---
This vintage Barbie ensemble was next.  It was exclusive to the European market and was called Pink Parfait #1680. It is also known as Atelierfest as well as Atelier Fest. It received 2 bids and sold for $1,200.
It is not uncommon for the NRFB version to sell for $4,000.
---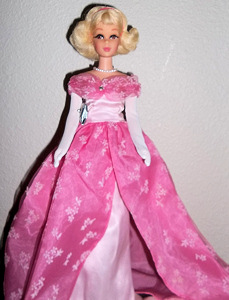 We round out the top ten just like e started with two more Vintage Francie Japanese Market exclusives.
The first on is this lovely pink satin gown.  It sold for $1,200.  It included the gown, gloves, purse and soft pink heels.
---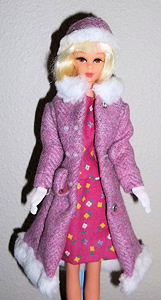 Next was this Japanese Market version of Shoppin' Spree #1261 from 1966.
It was listed for $1,600 and sold for a "best offer" of probably around $1,200, according to where to was on my list.
It included the fur-trimmed lavender tweed coat, matching hat and purse, along with a contrasting dress, white gloves and shoes.
---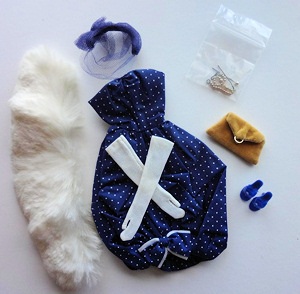 Last on our list are two different Gay Parisienne #964 (1959) ensembles.  Both ensembles were complete.
The first one (pictured) sold for $1,095.  The other one received 16 bids and sold for $1,080.
---
See all current Vintage Barbie Listings on eBay
Comments
comments