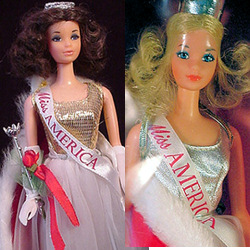 Mattel made two different Miss America Dolls using Barbie's Body and the Steffie head mold.
Walk Lively Miss America was sold in 1972 and 1973 and Quick Curl Miss America from 1973 to 1976. Walk Lively was also sold by Kelloggs as a mail in offer (for three dollars!) and there were three Miss America ensembles sold in 1972.
The dolls are much easier to find than the ensembles!
Read More – Miss America Dolls
Related Pages:
Vintage Barbie Clothing 1971 and 1972
Mod Barbie Dolls – A detailed chronological history of the Mod Era Barbie Dolls from 1967 to 1972, including Jamie and Truly Scrumptious Barbie Dolls. Each doll has its own page with pictures and detailed information…[Read More]
Steffie
Barbie's Friend Steffie was introduced in 1972. The Steffie doll head mold is still in use today and is one of the most popular Barbie faces ever produced. There were only three Steffie dolls and all three were released in 1972, but there have been many since using her face!