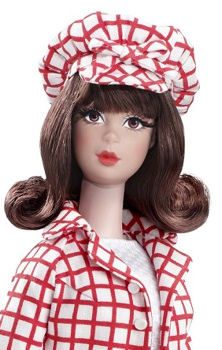 2011 has been a sad year for collectors and lovers of Vintage Barbie Doll Reproductions. After several years of outstanding repros, this year there are sadly none. The one bright spot is about to hit the market.
The Silkstone Francie doll is scheduled to be released by Mattel August 1. This is reported to be the first in a Francie series, with the second to be a Barbie Collectors Club exclusive, to be offered later this year.
The first Silkstone Francie is called Check Please. Francie is wearing a mod red and white checked suit (with a jacket, mini-skirt and belt) and hat and has a white blouse, hose and handbag. She is wearing red and white shoes and has a black puppy on a leash. It is a dealer exclusive – meaning it will not be available at the mass market stores.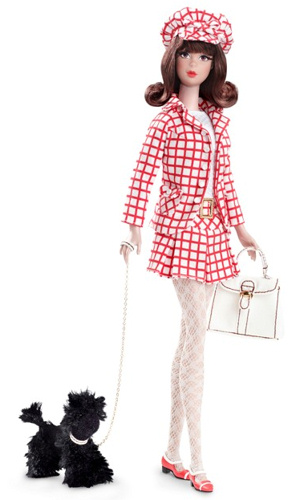 As the doll hasn't shipped yet, I can't wait to see it in person.
This is the only info Mattel has released about her:
Francie® Fairchild is Barbie® doll's fun and fabulous cousin. Fresh as a daisy and fancy free, she's finally back, dressed in a smashing mini-skirt suit and matching hat in striking red and white check! We've missed her whimsical style and now, for the first time ever, Francie® sports a Silkstone® body—so MODern!
Silkstone Francie is available to preorder now:
Related Pages:

Vintage Francie Dolls – Francie was introduced in 1966, she was Vintage Barbie Dolls's mod cousin and was the first doll with real eyelashes. She had a slimmer "teenage" figure. In 1967 Francie's same size friend Casey was introduced along with the supermodel Twiggy – the first celebrity doll in the Barbie family. Includes pictures and descriptions of Francie, Casey and Twiggy dolls and clothing…[Read More]

Vintage Barbie Reproductions are among some of the most popular and successful Collectable Barbie Dolls. Mattel issued the first Vintage Reproductions in 1994 to celebrate Barbie's 35th birthday. Includes pictures and descriptions of all of the Vintage Barbie Doll Reissues and Reproductions…[Read More]
Silkstone Barbie Dolls were introduced in 2000 and have become very popular with collectors. They are also known as Fashion Model Barbie dolls and Lingerie Model Barbie dolls. …[Read More]
Comments
comments