Here are the highest priced clothing items sold in the last month in the vintage Barbie category on eBay.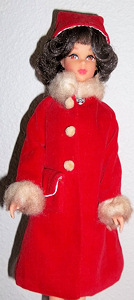 Two Vintage Francie ensembles that were exclusive to the Japanese market share the top slot this month.  Both items – sold by the same seller – sold for $2,000 each.
One is this red velvet coat with white fur trim.  It included the coat, hat,  red print dress, purse and red heels.
The other, the blue raincoat, included the coat, hat, umbrella, boots and gloves.
[Read more…]