This was an interesting eBay item from a few months ago.  This lovely lady sold in April for $1813.50.
What was really interesting to me was her swimsuit – I have never seen one with a red bottom and a white background.  Every one I have seen had a blue bottom with a pink background.
Someone asked the seller about it and the seller replied: "I have had three of them. As stated in the listing, I have only seen it once on a NRFB doll: an american girl sidepart. It looks completely original, but since I am not the original owner, neither did I debox the doll, I can not be sure. I'm always in the hunt for rare pieces and save them for beautiful dolls that really deserve them. However, I will never be able to know their history for sure. Another collector told me last night that these swimsuits were available in Japan and Europe."
She also commented about the red wrist tag, saying "The wrist tag is a reproduction made specially for her. I have seen the red & silver wrist tags in the first american girls. The red and silver wrist tags I offer as a BONUS for the lucky winners of my dolls."
If anyone else is familiar with the red swimsuit and/or wrist tag, I'd love to hear about it!  Leave a comment below or join the discussion on Facebook.
You can find more info on the American Girl Barbie here.
For comparison, here is the typical swimsuit: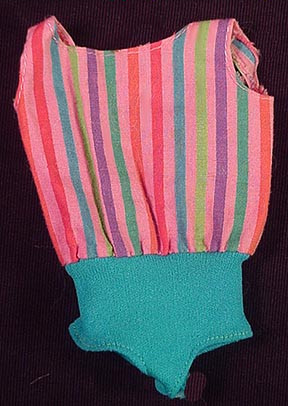 Comments
comments