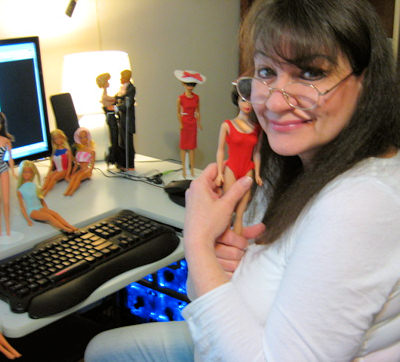 Deb Nickrand is our very first featured collector at Fashion Doll Guide. Many of you will know Deb and her infectious love of Vintage Barbie. Although she has only been collecting vintage a short period of time, her enthusiasm has made a tremendous impact in many online Barbie communities.
Deb, like myself and many other collectors, was born the same year as Barbie – 1959. She lives in Ohio with her husband Joe, who is very involved and supportive of her hobby.
Deb grew up a tomboy, never was aware of Barbie until 1988 when she bought her first Barbie ever — a 1988 My First Barbie Ballerina! She proceeded to buy, and give away more than 600 dolls from 1988-2012.
In December of 2012, Deb bought her first "vintage" doll, a 1967 Twist 'N Turn Barbie, with Chocolate Bon Bon hair. Since that time, Deb started collecting the earlier dolls, finally adding her "dream doll" a 1960 brunette Ponytail, in July of this year. Deb says that Barbie has been a huge blessing in her life!
Here is the interview I did with Deb:
Tell us about your collection –
Currently, my collection is very small—it consists of eleven vintage dolls, ranging from 1960-1967.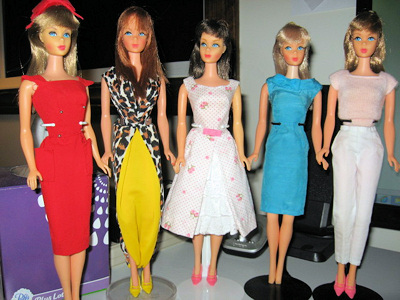 How long have you been collecting?
I started collecting in December of 2012, just 8 short months ago.
When and why did you start?
I am not sure why, perhaps to fill a childhood dream.
What era do you collect?
I am equally devoted to both the 1960 (#4) dolls, and the 1967 (Twist 'N Turn) dolls.
Does your collection have a particular focus?
Barbie's wonderful wardrobe is my focus, the 1959-1962 clothing items– my hunt never ends, LOL.
What is your favorite doll in your collection?
My favorite doll is my 1960 brunette Ponytail!
What is your favorite outfit or clothing item in your collection?
Favorite item is the hat to Open Road.
What is your favorite accessory in your collection?
The 1959 blue, OT shoes from Sweet Dreams.
What doll, clothing or accessory represents the ultimate item for you to obtain (your "holy grail")? Have you already acquired it?
My ultimate find will be the black coat to Easter Parade.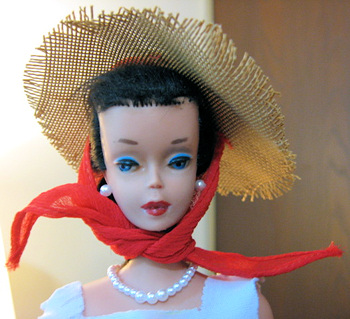 If you could have one piece of Barbie's wardrobe for you to wear what would it be?
Too many to choose just one, so….
Do you display your dolls? If so, how and where?
My dolls are near me, on my office desk at home—on display stands.
How do you keep track of what you have and your wish list? Written list, computer program, etc.
I keep track in my mind, and my wish list is always changing.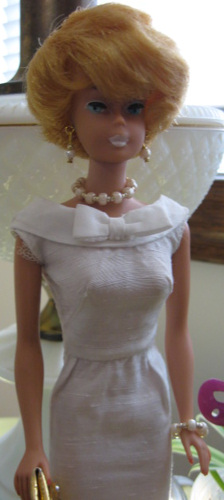 How "handy" are you – do you sew outfits? repaint them? repaint faces? fix or re-root hair?
I do hand sew, fix most problems, paint some features, and currently I am training to re-root hair.
What is the best bargain you ever got for your collection?
I like to think I have not had a best bargain yet.
What reproduction item do you Mattel would do next?
I honestly am not a fan of reproduction items — but if I were—Barbie's 57 Chevy would be nice!
Please share at least one tip or advice for other collectors
Buy what appeals to you, what makes you smile!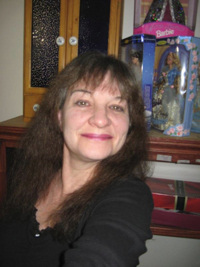 Thanks so much Deb for sharing yourself and your collection with us!  You can connect with Deb and other collectors on the Fashion Doll Guide Community site or Facebook Group.
Be sure and check back next week for our next Featured Collector.  You can Subscribe to Fashion Doll Guide by Email so you won't miss anything!
Tell us in the comments what else you would like to know about Deb!
Comments
comments