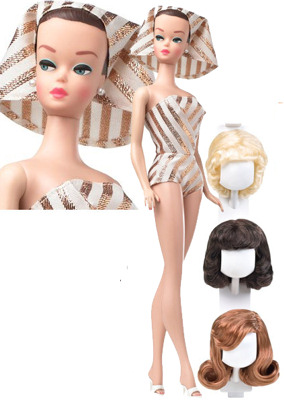 My Favorite Barbie Fashion Queen Reproduction was released in June 2010. This is a faithful reproduction of the 1963 Vintage Fashion Queen Barbie Doll. It includes a reproduction of the original white and gold striped lame strapless swimsuit and turban, white open toe shoes and her three wigs and her wig stand.
Read More – Fashion Queen Reproduction
Related Pages – Vintage Barbie Fashion Queen Dolls

Vintage Barbie Reproductions are among some of the most popular and successful Collectable Barbie Dolls. Mattel issued the first Vintage Reproductions in 1994 to celebrate Barbie's 35th birthday.
Comments
comments