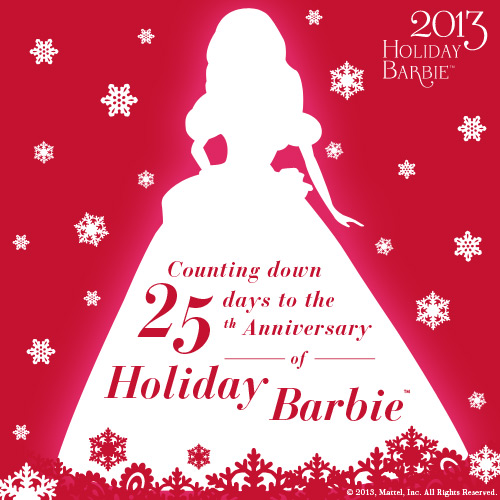 The Holiday Barbie section of Fashion Doll Guide is always one of the most popular and I am thrilled that the site has been invited to participate with four other blogs in Celebrating Holiday Barbie's 25th Anniversary! This year's 25th Holiday Barbie will hit the stores in a few short days on August 1 and leading up to that we are counting down by remembering all of the beautiful Holiday Dolls.
The first Holiday Barbie was introduced in 1988 and was an instant success.  The dolls from 1988 – 2002 have already been reviewed on other sites.  We will be reviewing 2003, 2004 and 2005 today.  Tomorrow we'll remember the holiday dolls from 2006 and 2007, along with an exclusive hint about this year's special 25th anniversary edition!

2003 Holiday Barbie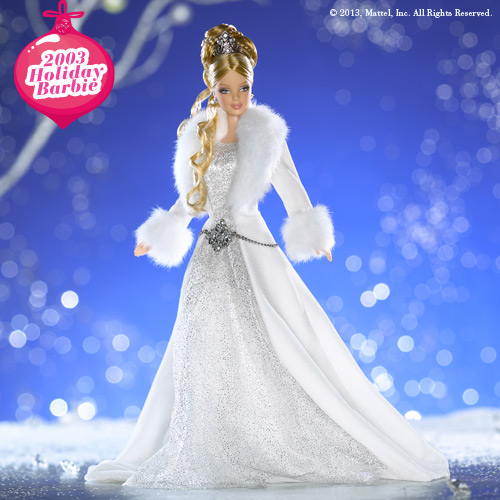 2003 Holiday Barbie was also known as Winter Fantasy Barbie.  With her shimmering white gown and white fur trim, I have always said that I think she is one of the most beautiful Holiday dolls.
2004 Holiday Barbie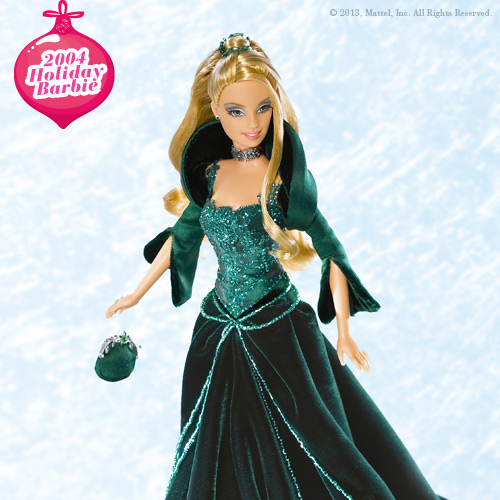 The 2004 edition featured an updated facial sculpt and a glamorous green gown with a shimmering bodice and dropped waist velvet skirt.  She features the distinction of being the first in the series to be called simply "Holiday Barbie".  She and 1991 are the only ones to have handbags.
2005 Holiday Barbie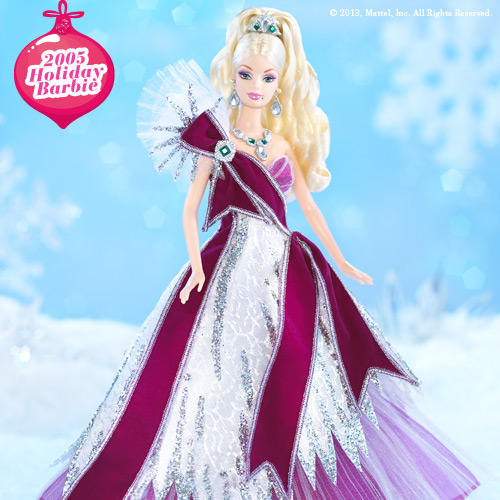 The 2005 Barbie, the 17th in the series, was designed by one of Barbie's favorite designers, Bob Mackie.  She has the popular (and beautiful) "Mackie" face sculpt and is wearing a glittering silver and white gown with burgundy accents.
Be sure and check back tomorrow as we remember the 2006 and 2007 Holiday Barbie Dolls and reveal a special hint about this year's exciting doll!
A Special Offer from Walmart:
On August 1st, head to Walmart.com to purchase the limited edition 2013 Holiday Barbie, complete with a exclusive ornament. As a holiday treat to you, the first 1,500 purchasers of the 2013 Holiday Barbie on Walmart.com will receive a $10 Walmart gift card!
To check out the previous reviews and sneak peeks, go to:
 This post is sponsored by Lunchbox.
Comments
comments