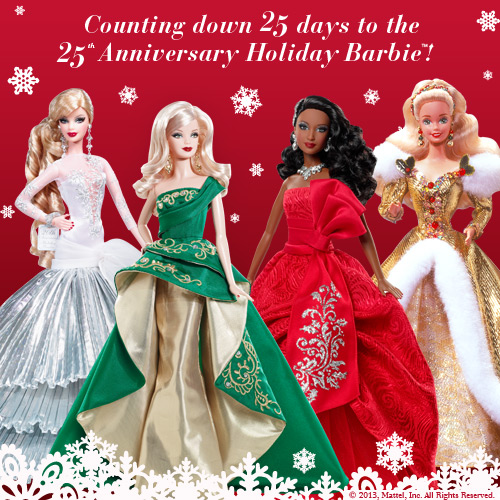 Today we continue to celebrate Holiday Barbie's 25th Anniversary.
With four other blogs, we are looking back at the impressive history of one of the most popular and long running Barbie series. Yesterday we covered 2003 to 2005. Today we get to look at 2006 and 2007 and I get to reveal an exclusive hint about 2013 Holiday Barbie – available in only a few short days on August 1, sure to be a very special Silver Anniversary doll!

2006 Holiday Barbie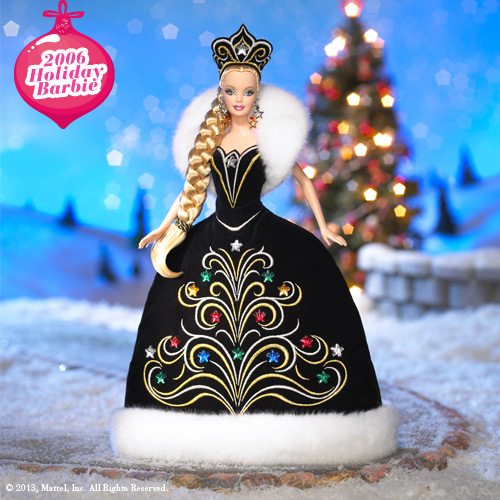 Wearing an elegant black gown trimmed in white fur, 2006 Holiday Barbie was designed by Bob Mackie.   Her dress is embellished with gold embroidery and festive stars.  The stars are repeated in her adorable earrings.   I always thought she was one of the most unique dolls in this series and I adore her regal headpiece!  She also has the distinction of being the only Holiday Barbie with braided hair.
2007 Holiday Barbie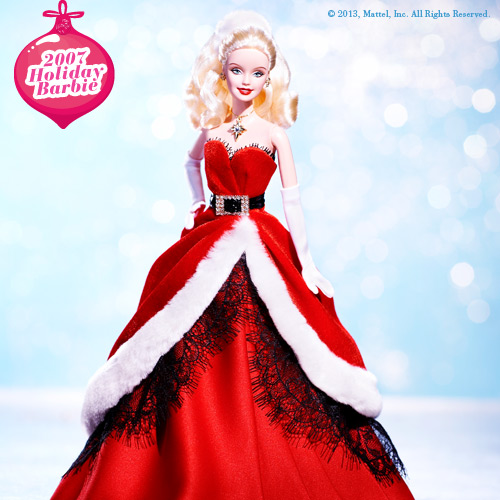 Wearing a festive red gown inspired by Jolly Old St. Nick himself, 2007 Holiday Barbie has always been a favorite of mine.  Like Santa, her outfit is trimmed in white fur and she has a black belt.  Her gown is also accented with black lace and she wears a white fur headband.  Her long white gloves are reminiscent of our beloved vintage Barbie – she is the only Holiday Doll to wear gloves!
Your Exclusive Hint!

Hint #4:
The snowflake patterns falling from her dramatic one-shoulder bodice down the length of the dress emphasize the fashion theme.
Be sure and check MomSpark tomorrow for the final years and reveal the last hint about this year's special doll!
A Special Offer from Walmart:
On August 1st, head to Walmart.com to purchase the limited edition 2013 Holiday Barbie, complete with a exclusive ornament. As a holiday treat to you, the first 1,500 purchasers of the 2013 Holiday Barbie on Walmart.com will receive a $10 Walmart gift card!
To check out the previous reviews and sneak peeks, go to:
 This post is sponsored by Lunchbox.
Comments
comments