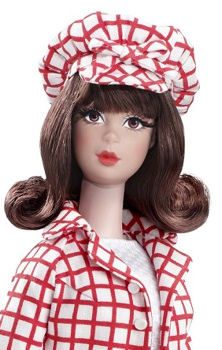 2011 has been a sad year for collectors and lovers of Vintage Barbie Doll Reproductions. After several years of outstanding repros, this year there are sadly none. The one bright spot is about to hit the market.
The Silkstone Francie doll is scheduled to be released by Mattel August 1. This is reported to be the first in a Francie series, with the second to be a Barbie Collectors Club exclusive, to be offered later this year.
The first Silkstone Francie is called Check Please. Francie is wearing a mod red and white checked suit (with a jacket, mini-skirt and belt) and hat and has a white blouse, hose and handbag. She is wearing red and white shoes and has a black puppy on a leash. It is a dealer exclusive – meaning it will not be available at the mass market stores.