Last week we started looking at Vintage Barbie Booklets by looking at the first three booklets from 1959 and 1960. Today we'll look at the two booklets that picture only Barbie and Ken on the cover. They are from 1961 and 1962.
The 1961 edition had the same pink cover as the first three, but also had Ken on the cover. (It is a much lighter pink in person.)
There were two versions of the catalog made, one had a date on the cover, the other did not and otherwise they were identical.



This booklet is the last to have Ponytail Barbie, the Bubblecut was pictured it the 1962 booklet.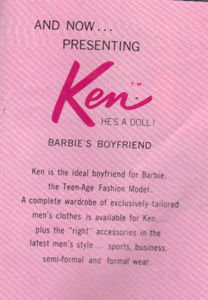 It also introduced Ken and pictures the Ken doll and his 8 ensembles.
The 1962 booklet featured new art work and a blue cover, but still pictured Barbie and Ken.
Like the 1961 booklet, there was also two versions. Both are identical except one has a date on the lower left hand corner of the cover and the other version is not dated.
The Ponytail Barbie was replaced in this edition with the new Bubblecut doll.


The Ken introductory page had new art work.


It also pictured Ken's Sleeper Set with short sleeves. The version released had long sleeves.
If you'd like to see the rest of the series, Subscribe to Fashion Doll Guide by Email so you don't miss one!
Booklets are a collectible item, here are some of the current listings:
[phpbay keywords="(1961, 1962) Barbie Booklet" num="15″ siteid="1″ category="15965″ customid="1961BarbieBooklets" sortorder="PricePlusShippingLowest" templatename="default"]
Comments
comments