2012 Holiday Barbie has been released – including a Limited Edition Brunette K-Mart Exclusive. She is wearing a beautiful red strapless gown that is embellished in silver.  You can read all about her here – 2012 Holiday Barbie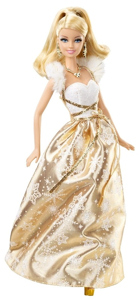 In addition to the regular Holiday doll, there is also a play line (aka "grocery store") Holiday Barbie again this year.  She is wearing a gown with a white bodice and a shiny gold skirt.  Her box says Happy Holidays Barbie.
Hallmark has 9 Barbie ornaments for this year's holiday season, plus one special edition that was sold only at their ornament open house in July.
The special edition ornament is Stunning in the Spotlight.  The other ones are:
2012 Holiday Barbie – the ornament is pictured with a white fur wrap, which the doll doesn't have.
Student Teacher – from the 2010 Student Teacher Reproduction (Love the box on this one!).
Matinee Fashion – also from the 2012 Reproduction.
Provencale – 2002 Silkstone Barbie
Tweed Indeed – 2006 Silkstone Barbie Doll
Shoe Chandelier  – Annual Shoe / Shopping Ornament
Princess & the Pop Star  – this year's Barbie holiday DVD
Brava! Ballerina
You can see the individual pictures here – Barbie Hallmark Christmas Ornaments
Related Pages:

Holiday Barbie Dolls The first Holiday Barbie was made in 1988. For many of us, it just wouldn't be Christmas without Barbie. Includes pictures and descriptions of all of the Holiday Barbies made so far…[Read More]

Barbie Hallmark Christmas Ornaments In 1993, Barbie Hallmark Ornaments entered the market. Hallmark has made Barbie ornaments every year since then and well over 100 ornaments have been produced. Includes a list of all the Barbie Hallmark Ornaments made so far along with pictures and descriptions…[Read More]
Comments
comments