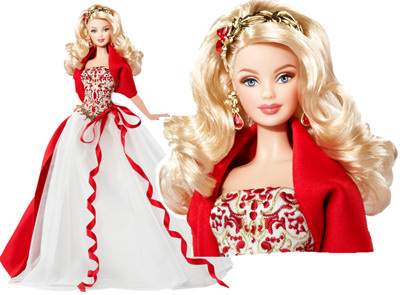 2010 Holiday Barbie Doll is wearing an elegant red and white gown with gold trim.
The Caucasian version has the Mackie face sculpt and long blonde hair, while the African American Barbie has the Goddess face sculpt and long dark hair.
(For more info on Barbie Doll face sculpts see Barbie Doll History.)
Read More - 2010 Holiday Barbie
The best price I found is at Amazon (currently a pre-order) – $40.95 with Free Shipping.
Related Pages –

Holiday Barbie Dolls The first Holiday Barbie was made in 1988. For many of us, it just wouldn't be Christmas without Barbie. Includes pictures and descriptions of all of the Holiday Barbies made so far…[Read More]

Barbie Hallmark Christmas Ornaments In 1993, Barbie Hallmark Ornaments entered the market. Hallmark has made Barbie ornaments every year since then and well over 100 ornaments have been produced. Includes a list of all the Barbie Hallmark Ornaments made so far along with pictures and descriptions…[Read More]
Comments
comments